Surviving The Adoption Wait
You have chosen your agency or attorney of choice. You survived that dreaded Home Study. You spent hours creating your Profile Book. You are officially "APPROVED to adopt", so what now? The past few months have been leading up to this moment and you were feverishly filling out forms, scheduling interviews, doctor's appointments, and pulling all of your creativity into an 8×11 book, and now you are told to simply, "wait." Excuse me now? You have been in fact "waiting" to add a child to your family for what seems like forever already and "now" is when the waiting starts? The true and dreadful answer to that question is "Yes." However, this time of waiting does not have to be filled with anxiety or checking each day off of that calendar in your kitchen.
Here are my "Social Worker Approved" tips for surviving the adoption wait!
1. Realistically prepare for your new addition. DO NOT, and I repeat DO NOT buy clothes, diapers, bottles, specific toys, etc. as that can make the wait seem even more excruciating. Instead, start clearing out that extra bedroom, pick out a gender-neutral wall color (unless you are adopting a child of a specific gender) and paint the walls, pick out a crib or bed. Start looking on Pinterest for different decorating ideas for when the time comes. These are simple ways to prepare, while not adding to your anxiety of waiting. A fallacy of adopting a child is that the baby or child's room has to be completely done. I always suggest to families to wait and decorate the room once the baby or child is in your home. You will be able to make the room specific to your baby or child, which makes the process much more fun!
2. Work on household projects. Take this time to update that bathroom you felt you never had time for before. Start that garden in your backyard, knock down that wall, or clean out that garage. This is the perfect time to keep busy, while feeling accomplished with projects here and there.
3. Start an adoption journal. Write about this amazing process you have begun. Share your feelings about your hopes, desires, and dreams for your future child. Share your fears about the unexpected and the struggle of waiting. This can be very therapeutic and great to read again years later, even with your child one day.
4. Start a blog or vlog. This can be a great outlet for you and a way for your family and friends to support you throughout your adoption journey. There is also a huge adoption community out there. Maybe something you will share can encourage another family starting their own journey; or maybe another family will encourage you!
5. Continue your adoption education. Read books, blogs, etc. about discussing adoption with your child, adoption resources for families, books for children on adoption, and so on. No one will ever know everything there is to know about adoption, so continue your education as you prepare!
6. "Date" your spouse. No matter how long you have been waiting and preparing to add a child to your family, your lives are about to change…even if you have children already! Use this time to strengthen your relationship as a couple. Go on dates, a weekend getaway or that cruise you have always wanted to go on. Have no money left after saving for your adoption…have a date night in and binge watch some Netflix! If you are adopting as a single parent, then use this time to take that one trip, visit with out of state friends and family, or take that art or cooking class you always wanted to try. Take time for YOU as you wait!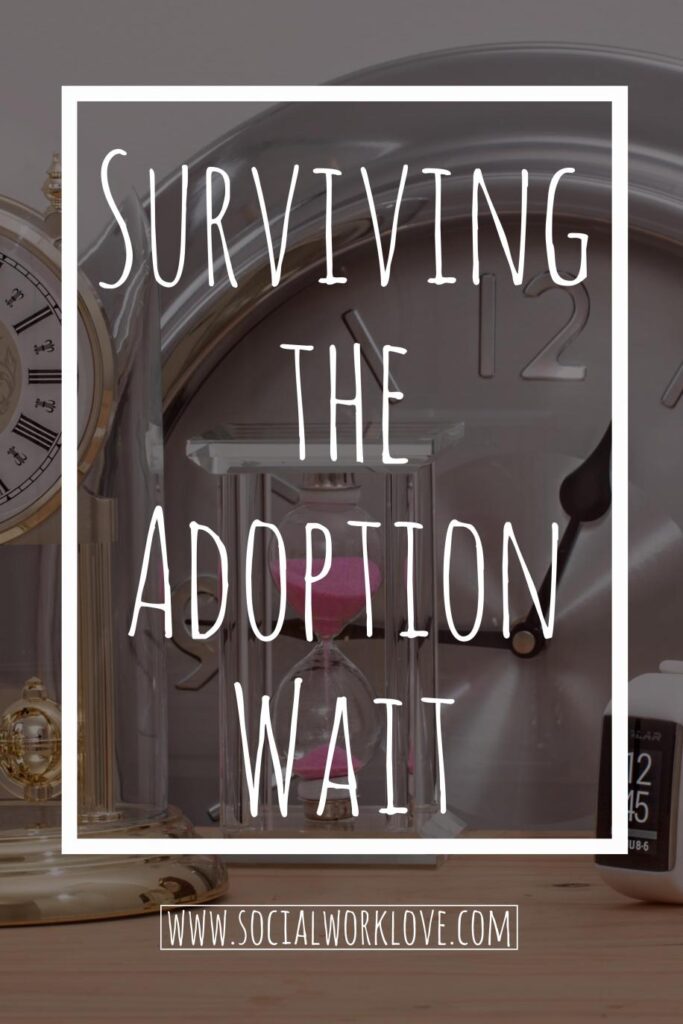 The wait is just another part of your journey to adopt a child. You will look back on this wait one day and think it was completely worth it…trust me, you will!
This post was written by our Adoptive Parent Coordinator, Leah Wild and was first posted on her blog, http://www.socialworklove.com Feel free to check it out for more great adoption info!